About the author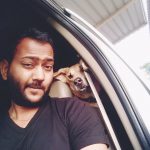 Kashyap Dave
Hello, I'm Kashyap Dave.
I have been working in Digital Marketing and Design Industry. Here on my blog, I collect everything about the life with my dog- Bruno, a 4-year-old Jack Russell bitch. Whether cool toys, helpful products and interesting nutrition tips, care and health information or my observations from everyday life: there is always something new to discover and share with you.
I'm also looking forward to your comments and feedback. Tell me what I should tell you more about and what interests you. Cool that you're there!
This site uses Akismet to reduce spam. Learn how your comment data is processed.